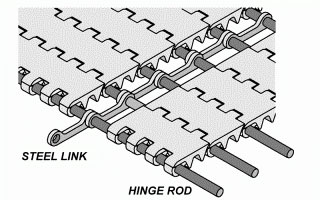 The function of  stainless steel link is to reinforce the tensile strength of plastic material. It adopts stainless steel links to collocate with stainless steel hinge rods in crisscross interlock. Please refer to the illustration above. Its tensile strength will be higher than plastic material's. It has an excellent efficiency of the application for the special environment with high tensile, heavy loading and high temperature.
Stainless Steel Hinge Rod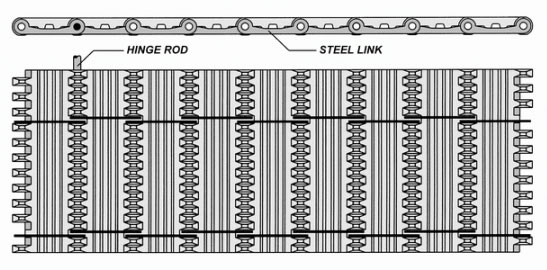 Stainless steel hinge rod is constructed of stainless steel material, and was processed into the diameter in 4.5mm, 5mm and 6mm . Generally, it was designed to collocate with steel links. It also can be adopted individually to substitute plastic hinge rod. When applying in the environment with high temperature 95°C~100°C and it is necessary to adopt the backbend radius hold down, it will have more excellent efficiency than plastic one's. It is because the plastic hinge rod will soften and deform in the environment mentioned above, and result in the belt break away the hold down rail and cause the damage.

HONGSBELT steel link is capable to reinforce the tensile strength of plastic material. Please refer to the arrangement of steel link above and coefficient of reinforcement strength tensile below; it needs at least 2 rows to joint together. It would better to be installed in even numbers arrangement.
Stainless Steel Link & Tensile Strength Coefficient Table
Series
Steel Link ( X 100 %)
Row X 2
Row X 3
Row X 4
Row X 5
Row X 6
Row X 7
Row X 8
100
1.6
1.9
2.2
2.7
3.2
3.6
4.1
200
1.5
1.7
2.0
2.2
2.5
3
--
300
1.8
2.0
2.4
2.9
3.5
4.2
5.4
400
--
--
--
--
--
--
--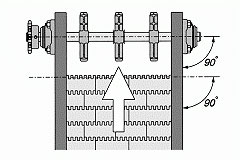 When adopting steel link in the design, it should be required the accuracy of the orthogonal angle between the drive/idler shaft and the body of the conveyor, to prevent the stainless rods deforming in non parallel motion during long operating time. It would cause the conveyor belt in serious damage.
Catenary Sag Of Steel Link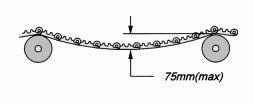 HONGSBELT steel link may increase the weight of the conveyor belt, and the expansion coefficient will not be substituted by the stainless steel material, therefore, the calculation of tension and belt length must to take notice after belt weight increasing. The length of catenary sag on the return way must be controlled within the allowable limitation, 75 mm.
Weight Table for Steel Link And Hinge Rod
After adopting steel link and stainless steel hinge rod, HONGSBELT belt will become very heavy, please contact with HONGSBELT technical department for further information details.
Series
100
200
300
500
501
502
Type
A
B
A
B
B
BHD
B
B
A
B
Stainless Steel Hinge Rod ( Heavier Than Plastic Rod of Belt unit weight kg / M2 )
Weight
45%
55%
80%
88%
74%
55%
68%
73%
63%
64%
Steel Link ( Per Row / 1000mm )
Weight
0.14Kg
0.06Kg
- -
0.16Kg
0.11Kg